News
Manitoba Metis Federation Annual General Assembly Resolves to Defend Métis Harvesting Rights in Manitoba
September 24, 2018
MEDIA RELEASE
Manitoba Metis Federation Annual General Assembly Resolves to Defend
Métis Harvesting Rights in Manitoba
Winnipeg, MB – On Sunday, September 23, delegates to the Manitoba Metis Federation (MMF) Annual General Assembly voted unanimously in favour of a resolution to defend Métis harvesting rights in Manitoba. After waiting more than two years for a response from the Pallister Government to a joint working group's recommendation to expand the harvesting zone, Manitoba Métis Harvesters will wait no more.
"The recommendation was jointly developed and agreed to by the MMF and Manitoba senior staff and legal counsels. It has been ignored by the Pallister Government.," stated President Chartrand. "Our rights will no longer be disrespected. We will protect our Métis Laws, our Métis Authorities, and our Métis Harvesters' rights in all our traditional territories."
The resolution calls upon the MMF to consider all necessary actions, including legal remedies, to implement the 2016 recommendation for expanding the Recognized Métis Harvesting Area defined in 2012 Points of Agreement negotiated between the MMF and Province. The recommendation was put forward by the Manitoba–MMF Joint Technical Working Group established in 2015.
The resolution also directs the MMF to consider defending any Métis Harvester charged by the Province with a harvesting-related offence in the Game Hunting Areas recommended in 2016 for inclusion in the Recognized Métis Harvesting Area. The MMF will defend Métis Harvesters exercising Métis hunting rights in the Grassy River Region (GHAs 5, 7, & 7A) and the Manigotagan Region (GHA 26 and that portion of GHA 17A outside of the Pimitotah Traditional Land Use Planning Area). Harvesters must be following the Métis Laws of the Harvest 3rd Revised Edition and have a valid MMF Harvester Identification Card with the current year's Conservation Trust Fund Sticker.
The resolution further mandates the MMF to undertake assessment and analysis toward greater expansion of Métis harvesting rights in northern Manitoba, including Churchill.
More than 3,000 Manitoba Métis Citizens participated in this year's MMF Annual General Assembly from Friday, September 21 through Sunday, September 23, 2018 at Assiniboia Downs. The Assembly is a cornerstone of governance within the Métis Nation, drawing together Manitoba's Métis Citizens to review accomplishments, celebrate successes and plan for the future. Together, Manitoba's Métis Citizens are taking new strides toward defending our Nation, advancing our rights and protecting our people.
-30-
Believe in Yourself; Believe in Métis.
The Manitoba Metis Federation (MMF) is the official democratic and self-governing political representative for the Métis Nation's Manitoba Métis Community. The Manitoba Métis are Canada's Negotiating Partner in Confederation and the Founders of the Province of Manitoba.
For media information, please contact:
Barney Morin
Manitoba Metis Federation
Communication Coordinator
Office: (204) 586 - 8474 Ext: 277
Cell: (204)391- 0717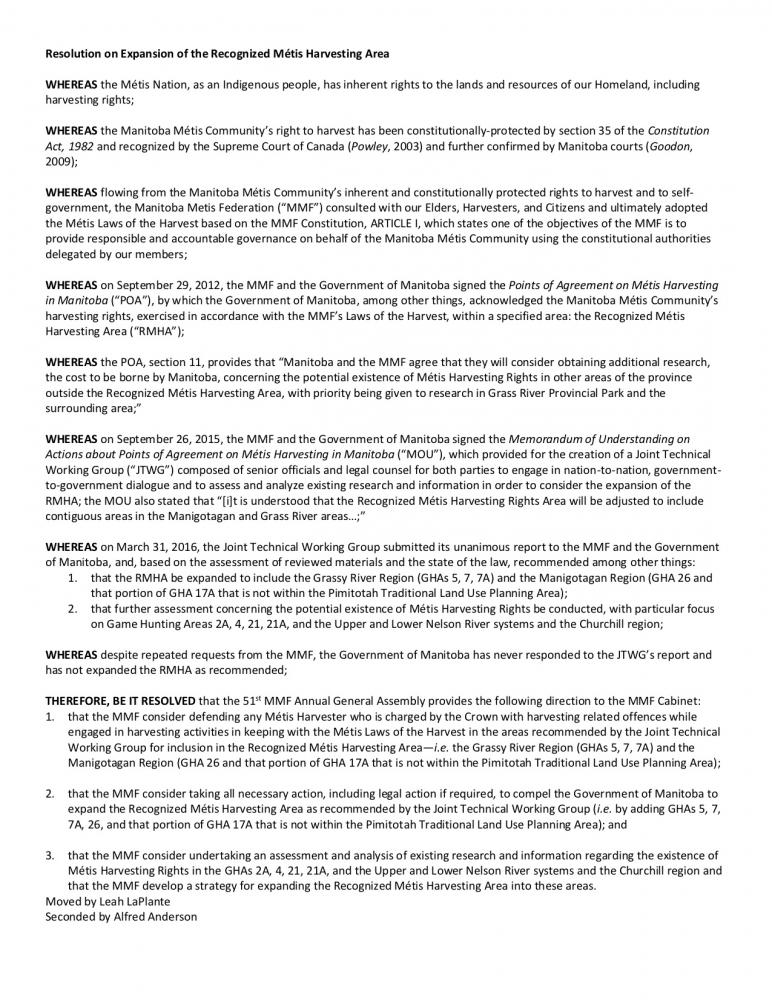 ---